Aaron Burr, fugitive and traitor, 1804
A Spotlight on a Primary Source by Aaron Burr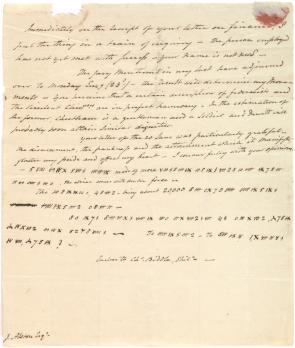 On July 11, 1804, Vice President Aaron Burr shot former Secretary of the Treasury Alexander Hamilton in a duel in Weehawken, New Jersey. Nine days later he wrote this cryptic letter (partially in cipher) to his son-in-law, Joseph Alston.
The year 1804 proved to be a difficult one for Burr, who was trying to revive his political career. Hamilton had led Federalists in opposing Burr's nomination in the New York gubernatorial race. Powerful Democratic-Republicans like George Clinton, the New York governor, and his nephew DeWitt Clinton also worked against Burr. DeWitt, then the mayor of New York, used the American Citizen, edited by James Cheetham, as a mouthpiece for resurrecting scandalous allegations against Burr from the election of 1800. Working together, Federalist and Republican forces helped deliver Burr a crushing defeat in the election, a humiliation that eventually led to the fateful Burr-Hamilton duel on July 11.
By Friday, July 20, a grand jury in New Jersey and the coroner's jury in New York City were considering charges against Burr. The coroner's jury was expected to deliver the verdict of its inquest the following Monday, and, as Burr phrased it, "the result will determine my Movements." Burr believed that the same forces that had conspired against him politically were now aligning to charge him with murder.
At the same time, Burr was plotting with General James Wilkinson to form a separate country from the western part of the United States including the Louisiana Territory. In August 1804, Burr contacted Anthony Merry, Britain's minister to the United States. Merry immediately sent a dispatch to Britain detailing Burr's offer to "effect a separation of the western part of the United States" from the rest of the country. In return, Burr wanted money and ships to carry out his conquest.
The second part of the letter and an enclosed missive to Charles Biddle (a cousin by marriage to James Wilkinson) are written in cipher. In the early republic, cipher was often used in mails in the interest of privacy. Whether he was discussing fleeing the murder charge or his plot to form a separate country, Burr was understandably fearful of having his plans exposed. Anyone intercepting Burr's letter would have been met with this impenetrable line:
8 0 IX 7 1 8 III VI X 1 VIII IX 4 1 0 IV X III 2, λ 7 5 IX λ IV X 10 2 (-) IV X 5 2 Y 8 VIII 1 ~ To VIII IX 5 III 2 - To 6 IV IX IV 1, X VII IV V 1 IV VII, λ 7 5 IX?
A full transcript is available.
Transcript
Immediately on the receipt of your letter on finance, I put the thing in a train of inquiry – The person employed has not yet met with success – your name is not used –
The jury Mentioned in my last have adjourned over to Monday Eveg (23d.) – The result will determine my Movements – You perceive that a certain description of federalists and The virulent Clintses. are in perfect harmony – In the estimation of the former, Cheetham is a gentleman and a soldier and Dewitt will probably soon attain similar dignities.
Your letter of the 20 June was particularly grateful ~ The discernment, the frankness and the attachment which it manifests, flatter my pride and affect my heart – I concur fully with your opinions.
~ 5 VIII (-) IV X 5 VII 1 III IV IX made of more V 10 1 5 III IX

II 5 IX 1 VII 8 5 10 VIII IX 7 5 III II (-) VIII 1 10 0. The advice comes with double force ~

The 10 8 IX IX 10 1 4 5 III 2 -

being about 20,000 8 III IX 7 8 VIII VIII IX 5 IX 1

VIII IX 5 III 2 0 8 VII II ~

8 0 IX 7 1 8 III VI X 1 VIII IX 4 1 0 IV X III 2, λ 7 5 IX λ IV X 10 2 (-) IV X

2 Y 8 VIII 1 ~ To VIII IX 5 III 2 - To 6 IV IX IV 1, X VII IV V 1 IV VII,

λ 7 5 IX? ~
Enclose to Chs. Biddle, Phila –
J. Alston Esqr